Insert Songs
Insert Audio
Go to your first song slide.
Go to INSERT tab ... on the far right go to Media>Audio>Audio on my PC... 
...and browse to find the MP3 file in S:>StudentShare> Koppejan> Music>... in your year's folder. 
It'll look like this on the slide. Move it out of the way into an empty space. 
Good starting place for song?
Then click on Trim Audio..

Play the song. Does it start in a good place or is there a better place to start? Remember, we will only be hearing 30 seconds of each song! Drag the green slider to where the song should start. Do not move the red slider!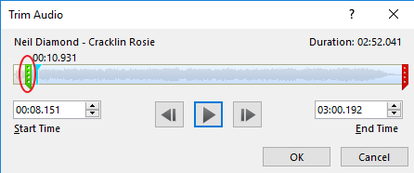 Volume levels consistent?
Check if the volume of your songs is consistent - some song files are poor quality and you need to up the volume; some are way better quality than others and you may have to reduce the volume.